CEDAR ROSE
Cedar Rose is a contemporary/traditional Native American and vocal trio consisting of its main song carriers Nico Wind Cordova, Karen Kitchen, and Mel Kubik. The women utilize hand shakers, hand drums, guitars, flutes and keyboards with their voices to present their repertoire of diverse tribal, ancestral and contemporary music. With its hauntingly beautiful, three-part harmonies and intricate, melodic rhythms, Cedar Rose is the only group of its kind in the Pacific Northwest region.
Cedar Rose was formed while Nico Wind, Mel and Karen were collaborating with members of Marv Ross's award-winning musical production, "Ghosts of Celilo," in 2002. One of the songs sung by Cedar Rose is Wisdom of the Elder's theme song, composed and performed by its music director, Nico Wind; it was arranged, performed and recorded with the help of Marv Ross, Arlie Neskahi, Karen and Mel and is the featured song for the Wisdom of the Elders radio series, "Discovering Our Story" TV series.


Cedar Rose Native American Womans Trio click to watch


Cedar Rose has opened and shared the stage with Native artists Kevin Locke, Joanne Shenandoah, Keith Secola, Gary Small, Swil Kanim, Cody Blackbird, among others. Cedar Rose sometimes includes guest musicians with whom it has performed for the Portland Waterfront Jammin for Salmon festival, Wycanushpum celebration, Portland Art Museum, Mt. Hood Autumn Cultural Festival, Hood to Coast Annual Bike Run, Art Train, Autumn Fest Celebration of Mt. Hood Cuisine Culture and Forest, Collage of Colors Festival, The Jim Pepper Honor Celebration, Zonta International, Chemawah Indian School Benefit Concerts, Intel, Nike, KBOO American Indian Word and Music Festival, First Nation's Celebrations, Indigenous Experience NW, Caneama Park Metro Opening Ceremony and Blessing, Oregon Native American Chamber, The Oregon Environmental National Awards Ceremony, An Evening With Wisdom Annual Fund Raiser and many other events.
​Presented by 4DM Cedar Rose will be performing at the 2017 Portland Rose Festival on May 29th Memorial day around 1PM.
​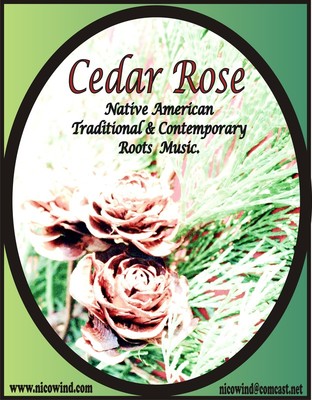 ​COOL NEWS

We have finished recording the first series of our Documentary programs and we are now ready to launch a crowd funding campaign.

Road Dog Tales'n Jam is about reintroducing our successful and maybe even unsung hero artists to our community. The intention is to provide our spot-lighted artists with a safe and entertaining interview type of platform, led by Nico Wind Cordova.
The idea is that these professionals will get down into the trenches with all of us and share their experiences without hype or ego. They tell their stories, and we receive them firsthand. Some of these tales are hilarious and some are really unbelievable or dramatic, but the point is that their telling should be informative, interactive, and entertaining.
The first hour of the 3-hour evening is the interview of the featured artist by Nico Wind who introduces the guest, traces their journey as artists, and then turns the process over to the audience. They then get to ask questions like what the musical process with coming up with a hook line or a lyric might have been, or why the guest chose a particular route in his or her career and what that was like, and what they might have done differently. This information could be especially educational for people who are looking at music as a possible career. The featured guest might then join in during the second and third hours of Road Tales 'n Jam for the Jam – meaning that musicians present would be welcome to sign up on a participation sheet and then Jam
with Nico Wind and her Free Rein band. Nico and a professional film team are capturing video footage of these interviews for an Historic Portland Music Scene documentary produced by Nico Wind, Julie M. Garland Steve Strain and Anne Morin. It will be available to the public as short documentaries at the end of 2016.
Road Dog Tales 'n Jam will resume live programming in January 2016 at the same location in THE BLUE ROOM BAR @ CARTLANDIA 8145 SE 82nd Ave Portland, on the third Sunday of every month, with a different guest for the first spotlight hour of each show.

We hope the loyal followers and fellow artists of the Portland music scene will support this important and entertaining program.
By Nico Wind Cordova with Anne Morin

​
The Closing Of An Old Door

Sadly,
I am no longer working at Wisdom of the elders in any capacity.
I believed it to be a great organization with a lot of promise for the native community here in Portland Oregon.
I dedicated a huge part of myself, of my life to this organization, mostly the radio programs and the discovering our story TV programs and a short time in the offices as a development assistant and on the board.
It was a great run for me, from the time of it's founding by Martin HighBear in the late 80s up to today Feb 2017.
​I don't know what will happen for the organization from here on out.
The slide show below shows some of the happy times we had.
Wisdom Of The Elders Radio Series & Discovering Our Story T.V.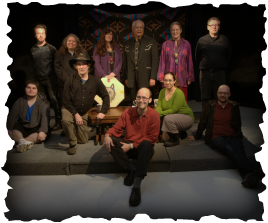 The Tribal Rhythms series segments of Wisdom of the Elders radio programs written and hosted by Nico.

Nico Wind Cordova (Assiniboine/Ojibwe) has been a musical performing artist for more than 35 years, and is one of the voices on all prior Tribal Rhythms programs. She has composed several original musical works, among them the Wisdom of the Elders theme song. Nico is the music director and co-host for WOTE's radio and Discovering our Story T.V. programs.

Tribal Rhythms is a script-written dialogue woven with pieces of recorded traditional and contemporary music. The highlighted music is specific to the featured cultural clan or tribe for each segment and may indirectly focus on celebrations, remembrances or questions relating to how the music addresses or points to or warns about changes in the culture, environment and interactions or encounters with outside influences. The segments may also include stories, poetry, or depictions of dances and gestures which are essential in describing family and individual songs, or even to emphasize a point.

Tribal Rhythms is designed to spotlight native indigenous MUSIC and the powerful influence it has to life on our planet. The programs give examples from each community of how music preserves tribal legacy and creates connection to other communities, honoring the lessons left by the Ancestors and how the wisdom of these traditional relations, rituals and songs can help us move forward in an ever-changing environment.

Wisdom's Native American produced TV series, Discovering Our Story, airs on the first Sunday of every month at 1 PM on Comcast Channel 11. Our program is re-broadcast on the Tuesday after the live studio broadcast, at 10 PM on Comcast Channel 22, and again on the Friday after the live studio broadcast, at 9 AM on Comcast Channel 23.


---
GOOD NEWS
Full Circle is working on Funding For A C.D. Project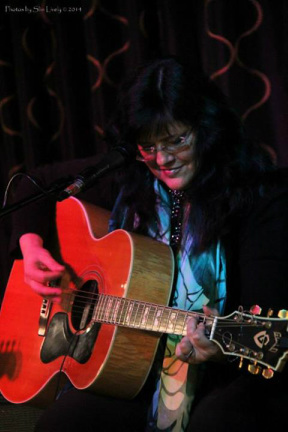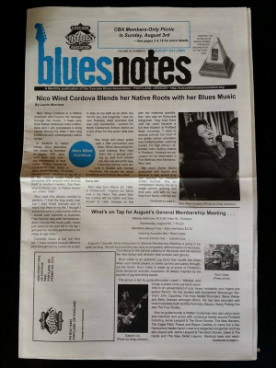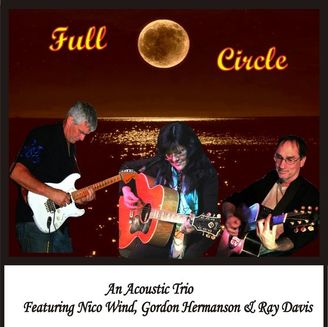 Available for 2017 bookings!
---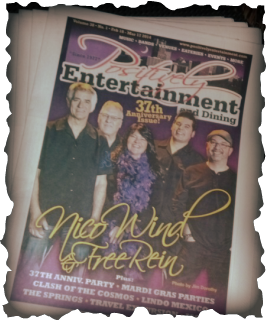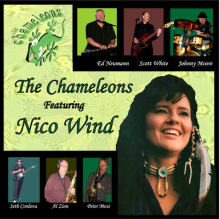 The Chameleons – CD release party features Nico Wind in hot show. By Kathleen Aker

As always, with the New Year comes new music andPositively Entertainment and Dining is back to bring all your favorite places to dance, drink and sing in 2013!

The first place for this writer was The Trail's End Saloon, located at 1320 Main St. in Oregon City. This once was a parking lot of the old Freytags Grocery (back in 1880-1885). It is now the host of local live music five nights a week. With a full menu/bar, there's a stage large enough to hold a 12-piece band and all their instruments, alongside a spacious dining and seating area ideal for big groups of loyal fans.

This widely known historic bar has seen many of the blues unsung legends, both local and international. One of those unsung legends that this writer found rather intriguing was Nico Wind, featured on The Chameleons' latest release covering the favorites from a more nostalgic time, the blues era.

The CD release party for the Chameleons' latest release (featuring Nico Wind) was on Friday, Jan. 18, 2013, at the Trail's End. The place was packed full of loyal fans and followers, from 21 to 91, having a Sadie Hawkins-like vibe with the ladies asking men to dance! Overall, comments were, "…they all seem to enjoy themselves and the music they are playing. It's nice to see and you can't help but enjoy yourself with them." Getting so into it, it was like they were playing for a crowd of thousands, all that high energy, happy spirits and full dance floor.

If you aren't familiar with Nico Wind or the Chameleons, they are Pacific Northwest-based blues musicians. Playing locally for the past 30 years and also touring abroad and overseas, their individual resumes are extensive and impressive, making them international music veterans.

Wind is Native American (Assiniboine/Ojibway) born in Portsmouth, Va., and raised in Portland, Ore. She has spent 30 years-plus touring, along with her 16-piece band with anywhere from 4 to 13 members (one of which is her husband, Seth Cordova, who plays along with Wind in her band Free Rein).

In 1981, Wind was on tour with Ray Charles as a solo act, opening for BB King and the Coasters, Brownie McGee, Sonny Terry, Curtis Salgado, and Sam Butera. With a voice closely resembling Janis Joplin, the stage presence of the late Latin American pop star Selena and a powerful band to back her. Wind was dubbed Portland's "Little Soul Diva" by the legendary Norman Sylvester, Clearly an honor, Sylvester is one of her mentors as a young child and still is today.

Also known as an animal activist. Wind has performed many benefits to save the Wild Horses, Wolves, Whales, and other endangered species while touring her way up and down the West Coast, Canada and Hawaii and abroad (for more information, go to www.NicoWind.com).

The Chameleons are Ed Neumann on keyboards/vocals, Scott White on bass and Johnny Moore on drums. They are the core of the Jim Mesi Band and the Chameleons. Wind and Cordova (her husband) are additions. They play cover songs from the blues and early rock and roll era such as Gimmie Some Lovin',Runaway, Heatwave, My Baby and Knock On Wood. The intention behind the band and their music is to introduce the new generations to old classics by keeping songs in their original form and delivering them with a modern energetic charm.

Initially, the band was going to record the album as a demo. It was then that Wind mentioned to Neumann that it had been a while since she had recorded her own album. So, with Neumann's faith in her and her love for music, plus the musical fusion of the band (since day one), he made the decision to make the demo Nico Wind's latest release.

It is highly recommended that you pick up The Chameleons' latest CD, featuring Nico Wind. You're sure to enjoy it anytime you need an emotional lift, have a barbecue, go boating, or while you're driving to and from work. Also, look for The Chameleons next release coming in February, 2013, (for more information, go to www.EDNEUMANN.com).

Notes on a napkin....The Chameleons featuring Nico Wind CD release party at the Trail's End in Oregon City on Jan 18 was packed to the rafters with fans, including myself & PE&D writers Lauree Carlsen & Kathleen Aker. We were in for a treat when the seven-piece band took their spots on stage; Seth Cordova, guitar; Ed Neumann, keyboards; Al Zion, tenor sax; Peter Moss baritone sax; Jim Mesi, guitar; Johnny Moore, drums; Scott White, bass. After a couple outstanding big band tunes, Nico took the stage for her splendid vocals on tunes like Runaway, Chain, Chain, Chain, When a Man Loves a Woman, Sweet Home Chicago and more. Besides Nico's fine vocals, a special note of praise for the horn section: Al Zion was superb on his instrument, as was Peter Moss, who also stepped out as lead vocalist on a couple of tunes, including It Was Rockin'. Pete is quite the performer with his animated delivery & unique vocalizing. Back up & lead vocals by many members of the ensemble added to the listening pleasure of the audience.


Our group, Nico Wind & Free Rein, is also featured on the September 2012 issue cover of Positively Entertainment and Dining Guide, http://www.positivelyentertainment.com/.