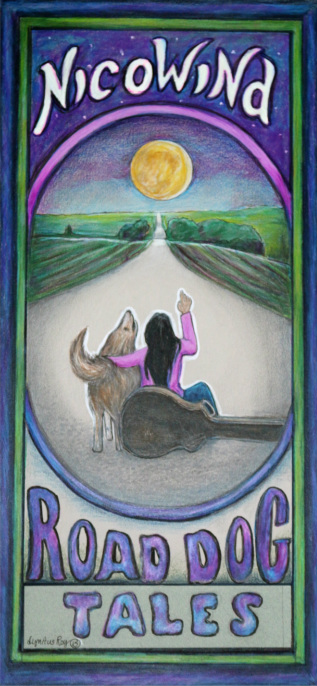 Nico's Road Dog Tales N' JAM 2016
Nico Wind's Road Dog Tales N' Jam is starting to create a real buzz! I'm honored to facilitate this event that is an up-close and personal, interactive interview with Portland's finest musical pioneers. We started the 2016 series on January 17th with "The Notorious" Doug Rowell (who was wonderful).
It is my intention to try to interview some women in this series, so for February 21 we have Ellen Whyte as our first lady! Next will be LaRhonda Steele, and I'm working on Lily Wilde, Ray Gordon, and others as we can find time in their busy schedules.
These events are being recorded for a documentary I'm creating with a great team of professional film artists for the historic preservation of the Portland/Northwest Live Music Scene.
The idea is to get the story behind the artist in his or her own words, to get to know each person a little more intimately.
The first hour of Road Dog Tales 'N Jam session is the interview with a special guest hosted by Nico Wind, including a question and answer session; after that, the guest will maybe do a song or two with Nico and the Free Rein Band; and then we open it up for musicians who have brought their instruments to jam with us. We ask that anyone interested please join us on the third Sunday of each month from 6 PM (when the interview begins) to 9 PM for our Invited jam session. There is a $2.00 cover/donation at the door; it's well worth it! Other artist guests scheduled to be interviewed for the 2016 series will include Doug Rowell, Ellen Whyte, LaRhonda Steele, Gary Ogan, Mel Kubik, Rae Gordon, Lily Wilde, possibly Curtis Salgado Karen Lovely and many more!
To find out who will be featured each month, go to our Facebook page – Nico's Road Dog Tales N' Jam. (It would be great if you would "like" our page!)
Nico via Facebook or at nicowind@comcast.net. We really appreciate all your support and welcome your input. Presently, we are working on a crowd funding campaign to help with the production costs and searching for grant writers to help us fund the entire documentary project. Please feel free to contact us about this and any other questions you might have.
THANK YOU! Nico Wind and Road Dog Tales N' Jam
THE BLUE ROOM BAR @ CARTLANDIA
8145 SE 82nd Ave Portland OR. Third Sundays 6:pm to 9:pm $2.00 cover/donation
We are filming each interview program and parts of the jam.
LOTS OF GOOD FOOD! PLEASE SPREAD THE NEWS!
We are really excited to continue the celebration of our Portland musicians.
Come, take part in the making of and historic preservation of the Portland music scene. It will matter in the future.

We are so fortunate here in the great Northwest to have a huge community of world-class musicians and extremely talented artists. According to Wikapedia, Portland, Oregon, is the 29th most populous city in the United States, the third most populous city in the Pacific Northwest region, and we are number 9 on the list of Most Musical Cities in the United States.
We have a lot of renowned musical people who live here in Portland, maybe because it's a beautiful place to live, or it's a more liberal state, or there is more acceptance of the weird and wonderful here. But one thing it's not: It's not a place to be if you're looking for fame and fortune from the music industry. In fact, I think you could safely say, that Portland is a good place for our great musicians to hide out and be incognito!
The established artists who sit on the throne of Portland's musical royalty, folks you might say are "local household names," are the people who are not only super talented but have dedicated a lifetime of passion, energy, love, and work into supporting the Northwest music scene - people like Curtis Salgado, the late great Linda Hornbuckle, Norman Sylvester, Marv Ross of Quarterflash, Nu Shooz, and D.K. Stewart to name a few. All of these people and their teams worked hard, as did other musicians climbing up the proverbial ladder. For example, Robert Cray is a well-known Portland musician, but do you know who his bass player is? Dedicated musicians invested years of loyalty doing a painstaking nightclub grind, or developing a good fan base, or attaining lots of exposure by doing free benefits. And this phenomenon takes place, not only in Portland, but in other places around our country and even the world. I tip my hat to these richly deserving Musicians. I also acknowledge the people beside them - the production engineers (live and recorded), the promoters, booking agents, photographers, and graphic artists that helped them achieve their goals? Who are they and what do we know of their journey and successes?

Making music my own career and profession on the road for nearly four decades and having great successes and failures of my own, I find I'm having to re-introduce myself all over again in my own home town. And, shockingly, I've learned I'm not alone. For instance, you may have heard of Gary Fountaine, that he's a great bass player, and you might even know that he was in the band Nu Shooze. But did you know that that his band appeared on American Bandstand in the 1980s? Like many of his colleagues, Gary's done a lot of really interesting things that most of us know nothing about.

Road Dog Tales'n Jam is about reintroducing our successful and maybe even unsung hero artists to our community. The intention is to provide our spot-lighted artists with a safe and entertaining interview type of platform, hosted by Nico Wind Cordova, along with her band "Free Rein" in THE BLUE ROOM @ CARTLANDIA once a month. The idea is that these professionals will get down into the trenches with all of us and share their experiences without hype or ego. They tell their stories, and we receive them firsthand. Some of these tales are hilarious and some are really unbelievable or dramatic, but the point is that their telling should be informative, interactive, and entertaining.


The first hour of the 3-hour evening at Trail's End Saloon is the interview of the featured artist by Nico Wind who introduces the guest, traces their journey as artists, and then turns the process over to the audience. They then get to ask questions like what the musical process with coming up with a hook line or a lyric might have been, or why the guest chose a particular route in his or her career and what that was like, and what they might have done differently. This information could be especially educational for people who are looking at music as a possible career. The featured guest might then join in during the second and third hours of Road Tales 'n Jam for the Jam – meaning that musicians present would be welcome to sign up on a participation sheet and then perform with Nico Wind and her Free Rein band.

Road Dog Tales 'n Jam will video record these interviews for our Portland music historic archives. We hope to make this produced documentary available to the public in the future.
Thank you to Julie M Garland Jim Thompson and Alva Myers from Portland Community Media.
The interview will start at 6 PM. There will be a Cover/Donation charge of $2.00 We hope the loyal followers and fellow artists of the Portland music scene will support this important and entertaining program.
By Nico Wind Cordova with Anne Morin



---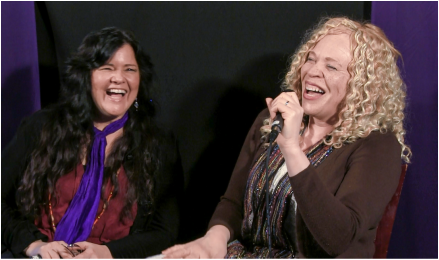 March 20th 2016 LaRhonda Steele
Also Celebrating Nico's Birthday along with others!

---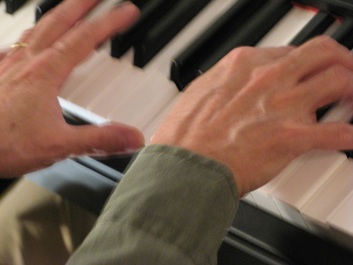 April 17th 2016 Gary Ogan
---
In Retrospect: 2015
Nico's Road Dog Tales N' JAM

Nico Wind's Road Dog Tales N' Jam is starting to create a real buzz! I'm honored to facilitate this event that is an up-close and personal, interactive interview with Portland's finest musical pioneers. We started the shows in February 2015 with "All about that Bass" Gary Fountaine, "Quarterflash Ghosts of Celilo" Marv Ross, "Barrel House Soul Savory" D.K. Stewart,
"Guitar String Sizzling, Italian Chainsaw" Jim Mesi. We then moved from the Trails End Saloon in Oregon City to The Blue Room Bar at Cartlandia is SE Portland and continued our series with Portland's beloved and well branded "Master Jackassery" Mike Branch.
"Professor Funk Maestro" Chris Baum,
"Blues Icon" Lloyd "Have Mercy" Jones,
Portland's "New Orleans" transplant Reggie Houston, and we finished the 2015 series with "The Notorious Badly" Steve Bradley.
These events are being recorded for a documentary I'm creating with a great team of professional film artists for the historic preservation of the Portland/Northwest Music Scene.
The idea is to get the story behind the artist in his or her own words, to get to know each person a little more intimately.
The first hour of Road Dog Tales 'N Jam session is the interview with a special guest hosted by Nico Wind, including a question and answer session; after that, the guest will maybe do a song or two with Nico and the Free Rein Band; and then we open it up for musicians who have brought their instruments to jam with us. We ask that anyone interested please join us on the third Sunday of each month from 6 PM (when the interview begins) to 9 PM for our Invited jam session. There is a $2.00 cover/donation at the door; it's well worth it! Other artist guests scheduled to be interviewed for the 2016 series will include Doug Rowell, Ellen Whyte, LaRhonda Steele, Gary Ogan, Mel Kubik, possibly Curtis Salgado and many more! To find out who will be featured each month, go to our Facebook page – Nico's Road Dog Tales N' Jam. (It would be great if you would "like" our page!)
Nico via Facebook or at nicowind@comcast.net. We really appreciate all your support and welcome your input. Presently, we are working on a crowd funding campaign to help with the production costs and searching for grant writers to help us fund the entire documentary project. Please feel free to contact us about this and any other questions you might have.
THANK YOU! Nico Wind and Road Dog Tales N' Jam
THE BLUE ROOM BAR @ CARTLANDIA
8145 SE 82nd Ave Portland OR. Third Sundays 6:pm to 9:pm
$2.00 cover/donation
We are filming each interview program and parts of the jam.
LOTS OF GOOD FOOD! PLEASE SPREAD THE NEWS!
We are really excited to continue the celebration of our Portland musicians.
Come, take part in the making of and historic preservation of the Portland music scene. It will matter in the future.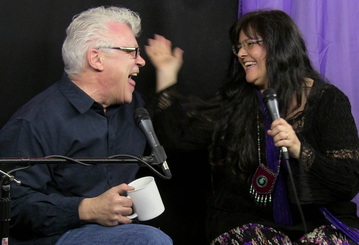 Sunday Nov 15th
Steve Bradley is an original Portlander and has a wealth of Portland music scene history to share.
---
You can meet some of Portland's best professional musicians, hear their stories, and ask them questions about their professional lives in an interactive interview setting that takes place every third Sunday of every month, hosted by musician and radio and TV interview hostess Nico Wind Cordova!

OCTOBER 18th Guest feature artist is:
REGGIE HOUSTON
Our Road Dog Tales guest is a story just waiting to be requested! From New Orleans, Louisiana, he is a highly regarded saxophonist with a long career, playing with The Gladiators, with singers such as Irma Thomas, with The Survivors and talents like the Neville Brothers, Bobby McFerrin and Harry Conic, Jr. among many others, and, for 22 years, with one of the first rock and rollers of the 50s, Fats Domino, traveling all over the world to sold out crowds. Today, he enjoys the respect of Oregonians for his wonderful music, his commitment to arts education, and his connection to our community. The live interview setting is at The Blue Room (Cartlandia), 8145 SE 82nd Avenue and is from 6 to 7 PM, followed by a jam session with the Free Rein Band until 9 PM.


Sunday Aug 16th
Nico's Road Dog Tales N' Jam Presents Portland's own
CHRIS BAUM
Nico Wind Cordova will be interviewing band leader and gifted pianist, CHRIS BAUM, August 16, at The Blue Room in Cartlandia. You can learn about Chris's career as a professional musician, hear his Road Dog Tales, and enjoy his outstanding prowess as a gifted pianist as he joins the jam with Nico Wind and Free Rein.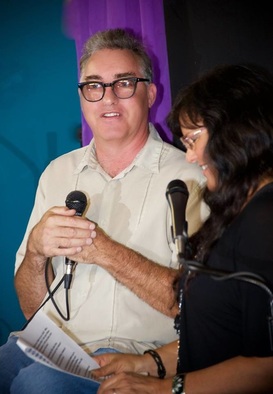 Chris Baum
Sunday Aug 16th
---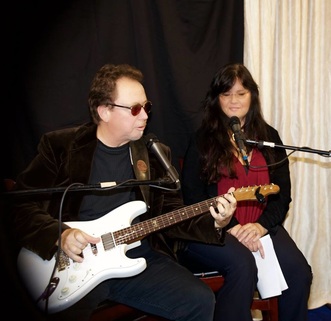 Sunday Sept 20th
Nico's Road Dog Tales N' Jam Guest
The living legendary stylized blues guitarist,
Lloyd (Have Mercy) Jones!
---